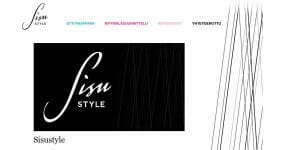 Sisu Style is a woman-owned small business in Finland that offers store design services. The owner Etti Raappana has over a decade's worth of design experience working for Stockmann, Finland's premier department store chain, and other high-profile brands.
The purpose of Sisustyle.fi is to give the company a presence on the Internet as well as give Etti a platform to showcase her work.
The design of the website stemmed from print work the owner had had done. Unfortunately it did not work for the web as-is and we had to "webify" it to accommodate pages with varying length of content, for example.
This was a simple, straightforward project just to get Sisu Style on the web. I will be working with Etti in the future as she gets more content to put on the site.